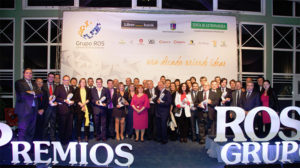 At Renacen we are very pleased! A few days ago, we were awarded the 10th ROS Prize for Innovation.
The ROS Group Awards recognise companies that have stood out in some field in Extremadura over the last year. This is a first level event that brings together the industry's top benchmarks in Extremadura, as well as government officials who show their support for these initiatives.
prize-group-renaissance-premier
The presentation of the ROS Group Awards is also the perfect place to know the state of the current business ecosystem, inside and outside our region, as well as to establish links and new relationships with other members of the ecosystem.
These types of meetings undoubtedly favour the growth of a business network that is the perfect ecosystem for the generation of value, new ideas, new business opportunities, business alliances, possibilities of national and international expansion, etc.
In our specific case, we were awarded with the Innovation Award, as a leading company in the development of new technologies and the application of these to cutting-edge projects. Our CEO Diego Cachero picked up the award, and took the opportunity to thank the ROS Group (organizers of this gala), the University of Extremadura and Fundecyt – PCTEX for all their support and open availability during these years.
ceo-diego-achero-renacens-premium-roses
In addition, other companies received important awards in various categories, such as the oldest company, the youngest and most outstanding company, tourism initiatives, or the public award, among others.
We hope to return next year to this gala, with much more technology and innovative projects, and again opt to win this award. And, above all, to get to know new companies that contribute to the development of Extremadura. It is a unique opportunity to take the pulse of business reality and surround yourself with talent in a night full of reference professionals.