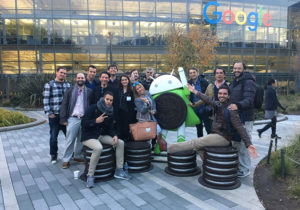 The' Spain Tech Center' programme, promoted by ICEX España Exportación e Inversiones and Red. es, has selected the technology company Renacens from Extremadura for its immersion programme in Silicon Valley.
The program involves training sessions in Madrid and a trip to San Francisco, with financial and legal advice, and market access strategies that house the world's largest technology corporations, according to the Junta de Extremadura in a press release.
The company, based in the facilities of Badajoz of the Parque Científico y Tecnológico de Extremadura and dedicated to the development of software and integral technological solutions, is one of the ten companies selected in Spain to establish contact with potential investors, partners and customers that allow it to expand market in Silicon Valley and expand to the United States.
"The potential of this product for the American market is enormous, and this has contributed to make us one of the selected companies," says the CEO of Renacens, Diego Cachero, who with this program expects "to have a network of contacts in the United States as far as Venture Capital, coaches and mentors are concerned, and that we have acquired the necessary knowledge to successfully consider a possible implementation of the company in that market.
The program consists of two training days in Madrid on November 2 and 3, and a trip to San Francisco between November 27 and December 8.
It should be noted that more than 70 percent of the selected companies come from Madrid and Barcelona, with Renacens being the only company from Extremadura that is part of the program, says the regional executive.
As he adds, the results of the immersion program "confirm that eight out of ten participants formalize relationships with customers in the North American market", so the participation of Renacens will multiply its internationalization possibilities, and will allow him to "know first-hand the best technological practices of the world to grow in this hyper-competitive market", as they assure from the company.
http://www.expansion.com/extremadura/2017/10/24/59ef510f268e3ed44e8b4617.html